© Uwe Arens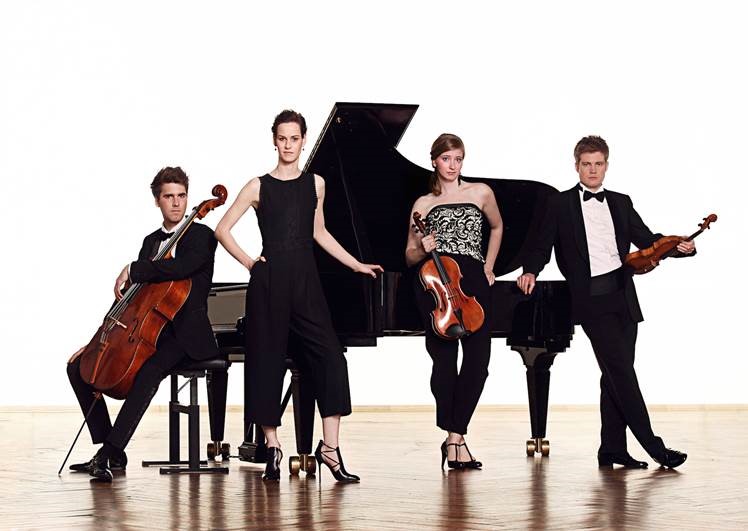 Notos Quartett

A | CZ | SK | HU | HR | SI

Born

Germany and Switzerland
Foundation: 2007 in Germany

Studies

Royal Academy of Music London, Universität Mozarteum Salzburg, Universität der Künste Berlin, Gemeinsames Kammermusikstudium bei Günter Pichler an der Escuela Superior de Música Reina Sofía

Highlights
- Rediscovery and first recording of Béla Bartóks Piano Quartett
- Winner of the ECHO Klassik Price 2017 as newcomer of the year

Prizes
- 1. Prize Charles-Hennen-Concours 2011
- 1. Prize Parkhaus Award 2011
- 1. Prize Premio Vittorio Gui Florenz 2013
- 1. Prize International Chamber Music Competiton Almere 2016
- 1. Prize OnStage Competition 2016
- 1. Prize Schoenfeld International String Competition 2016

Recordings

Sony Music/RCA Red Seal

Short Biography

Sindri Lederer | Violin
Andrea Burger | Viola
Philip Graham | Violoncello
Antonia Köster | Piano

The Notos Quartet is regarded as one of the "outstanding chamber music formations of our time" (Fono Forum 9/2017). Besides this piano quartet's "virtuosic brilliance and technical perfection" audiences and critics worldwide celebrate the Notos Quartet for its "sense of balance and ensemble playing revealing every detail of the composition" and praise the musicians for their "profound musicality that goes straight to the heart".

Since its foundation in 2007 the Notos quartet has won six first prizes as well as numerous special prizes at international competitions in England, Holland, Italy and China. Above that in 2017 the quartet was awarded the ECHO Klassik as newcomer of the year, at the time a prestigious prize that in its history had only been given to ensembles on the rarest of occasions.


The upcoming season includes concert tours to Japan and China as well as performances at concert halls such as the Tonhalle Zurich, Konzerthaus Berlin, International House of Music Moscow and Wigmore Hall London. Furthermore the ensemble will be premiering works dedicated to the Notos Quartet by Beat Furrer and Bryce Dessner.

Among others, the Alban Berg Quartet, Mandelring Quartet as well as Uwe-Martin Haiberg, Clemens Hagen, Menahem Pressler and András Schiff count to the quartet's mentors, teachers and supporters.


2018/2019
This biography is for website use only. For a full and updated biography, please email office@msbuhl.com
If you wish to revise, or receive a full and updated biography, please contact Mark Stephan Buhl Artists Management (office@msbuhl.com). Please use material of the current season only.