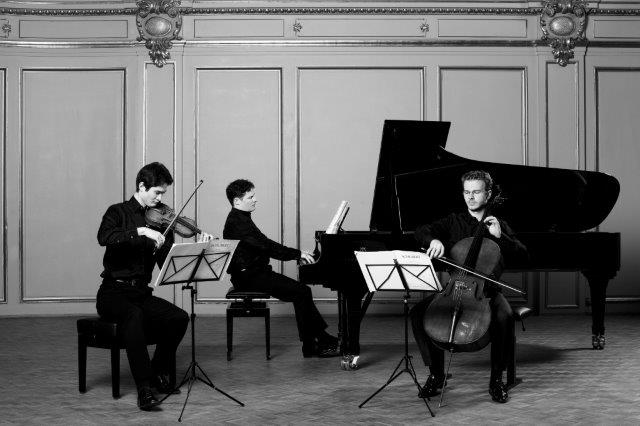 Schnyder Trio
A
Born
Switzerland

Studies
Andreas Janke: with Igor Ozim in Salzburg, with Hagen Quartett
Benjamin Nyffenegger: with Walter Grimmer and Thomas Großenbacher in Zürich
Oliver Schnyer: with Emmy Henz-Diémand in Aarau, with Homero Francesch in Zürich, with Leon Fleisher in Baltimore
Highlights
Switzerland's Best Classical Album 2013 (Schubert - The Piano Trios)

Prizes
Recordings
RCA Sony, Sony Classical

Short Biography
Andreas Janke | Violin
Benjamin Nyffenegger | Cello
Oliver Schnyder | Piano



The Schnyder Trio celebrated its debut at the Tonhalle Zurich in 2012, and soon thereafter released its first CD with Schubert's Piano Trios, which was hailed "a new benchmark recording" by the magazine Die Bühne and selected "Switzerland's Best Classical Album 2013" by the Aargauer Zeitung. This immediate success was followed by the recording of Brahms' complete Piano Trios, which also received great critical acclaim and has been awarded a "Milestone" from Musik & Theater and selected "Switzerland's Best Classical Album 2014" by the Aargauer Zeitung. The latest recording "Winterreisen" was selected "CD of the month" of the Opernwelt magazine and has been awarded a Supersonic from Pizzicato. Currently, the trio is recording the complete Beethoven Piano Trios for Sony Classical. Highlights in the short history of the Schnyders include invitations by the SWR Schlossfestspiele Ettlingen, the Meisterzyklus Bern, London Wigmore Hall, Schloss Elmau, a tour of Taiwan, South Corea and Japan and residencies at the Hirzenberg and Musikdorf Ernen festivals. Future performances include debuts at the Homburger Meisterkonzerte, WDR Köln, Hugo-Wolf-Akademie Stuttgart, Alte Oper Frankfurt, Ittinger Pfingskonzerte and Concertgebouw Amsterdam. The trio regularly performs with musicians such as Daniel Behle, Vilde Frang, Nils Mönkemeyer, and Lars Anders Tomter.

2016/2017
Falls Sie diese Biographie verändern wollen kontaktieren Sie bitte Mark Stephan Buhl Artists Management (office@msbuhl.com). Bitte verwenden Sie nur Material der laufenden Saison.