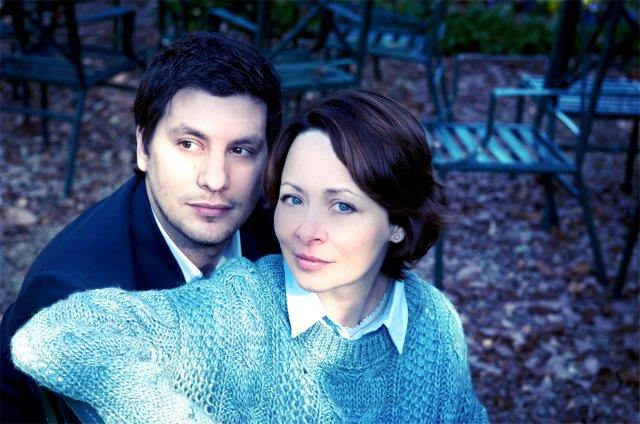 Duo Berlinskaia Ancelle
GEN
Born
Moscow, Paris
Studies
Moscow, Paris

Highlights
performance with Saint Petersburg Philharmonic Orchestra in 2015;
2 pianos recital "Bohemian Concert" in Moscow Philharmony with Gérard Depardieu, Sergei Polunin and stars such as Yury Revich, Alexander Rudin, Mark Pekarsky

Prizes
Trofemina Prize as International Woman of the Year for Ludmila Berlinskaia in 2014

Recordings
Saphir Productions
Melodiya
Short Biography
Ludmila Berlinskaia | piano
Arthur Ancelle | piano



Ludmila Berlinskaia and Arthur Ancelle started concertizing as a piano duet in 2011. The ideal meeting of two great musicians that understand each other perfectly on stage as well as on every aspect of life made sparks fly, and the duet started a dazzling rise.

In France, they are invited to perform Salle Cortot, Salle Gaveau, at the Pianofolies festival in Le Touquet; in Switzerland, they are invited to the "Sommets Musicaux de Gstaad" and the Festival in Boswil for a world premiere of the entire Debussy and Ravel répertoire for four hands and two pianos. In Russia they perform in numerous festivals, such as the prestigious December Nights Festival in Moscow and in the biggest halls such as Saint Petersburg, Moscow and Nijni Novgorod Philharmonic Halls.

They perform with several orchestras in Europe and Asia, including the Saint Petersburg's Philharmonic Orchestra, and were invited by the "Tokyo Spring Festival" and opened the "Rota das Artes" festival in Lisbon in 2016.

Their first album, released by Saphir Productions and devoted to Tchaikovsky, was well received by the international press. Their second recording, devoted to Prokofiev's famous ballets, was the first release entirely produced by the famous Russian label Melodiya since the fall of USSR and the start of a new series of projects by this company. The immediate success of this album on an international level encouraged the artists and the company to carry on with further collaborations and in 2017, they presented a recording of the infamous Liszt Sonata, transcribed for 2 pianos by Camille Saint-Saëns which received critical acclaim and was Editor's Choice from Gramophone Magazine.

They conquered their audience with the authenticity of their interpretation, a perfect concord on stage as well as with original and refined programs. Not only did they federate a loyal audience, they have created their own artistic environment, embodied in partnerships with an air flight company as much as luxury products ; the duet is also supported by Yamaha artists services in Moscow and by Pianos Nebout in Paris, so that they can benefit from the best instruments in all circumstances.
At the root of many artistic projects that bring together the arts, Ludmila Berlinskaia and Arthur Ancelle have for example gathered around them in 2013 the greatest Russian soloists, star dancer Sergei Polunin and Gerard Depardieu for a concert of "bohemian mood" in Moscow combining music, dance, theatre and light that was one of the "must see" of Muscovite season.
Furthermore, Ludmila Berlinskaia and Arthur Ancelle are in charge of the artistic direction for a new music festival "La Clé des Portes" that takes place within the delightful surroundings of the Loire Valley.


2017/2018
This biography is for website use only. For a full and updated biography, please email office@msbuhl.com
If you wish to revise, or receive a full and updated biography, please contact Mark Stephan Buhl Artists Management (office@msbuhl.com). Please use material of the current season only.