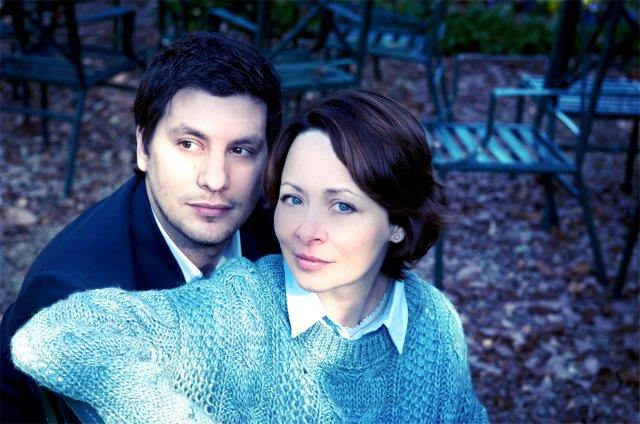 Duo Berlinskaia Ancelle
GEN
Born
Moscow, Paris
Studies
Moscow, Paris

Highlights
performance with Saint Petersburg Philharmonic Orchestra in 2015;
2 pianos recital "Bohemian Concert" in Moscow Philharmony with Gérard Depardieu, Sergei Polunin and stars such as Yury Revich, Alexander Rudin, Mark Pekarsky

Prizes
Trofemina Prize as International Woman of the Year for Ludmila Berlinskaia in 2014

Recordings
Saphir Productions
Melodiya
Short Biography
Ludmila Berlinskaia | piano
Arthur Ancelle | piano



Ludmila Berlinskaia and Arthur Ancelle started concertizing as a piano duet in 2011. The ideal meeting of two great musicians that understand each other perfectly on stage as well as on every aspect of life made sparks fly, and the duet started a dazzling rise.

They are invited to perform Salle Cortot, Salle Gaveau, at the Pianofolies festival in Le Touquet in France and to the Sommets Musicaux de Gstaad and the Festival de Boswil in Switzerland. In Russia they perform in numerous festivals, such as the prestigious December Nights Festival in Moscow and in the biggest halls such as Saint Petersburg, Moscow and Nijni Novgorod Philharmonic Halls.
Over the next seasons, they are to perform with several orchestras in Europe and Asia, including the Saint Petersburg's Philharmonic Orchestra, and to make the opening of Tokyo Spring Festival in 2015.

They released a first album in 2012 devoted to Tchaikovsky (Saphir Productions), which received critical acclaim and several rewards, including a "5 Diapasons" distinction and "4 Stars" from BBC Music Magazine. Their second recording, devoted to Prokofiev's famous ballets, is the first release entirely produced by the famous Russian label Melodiya since the fall of USSR and the start of a new series of projects by this company. The immediate success of this album on an international level encouraged the artists and the company to carry on with further collaborations over the next seasons.

Furthermore, Ludmila Berlinskaïa and Arthur Ancelle are in charge of the artistic direction for a new music festival "La Clé des Portes" that takes place within the delightful surroundings of the Loire Valley.

2016/2017
If you wish to revise this biography please contact Mark Stephan Buhl Artists Management (office@msbuhl.com). Please use material of the current season only.