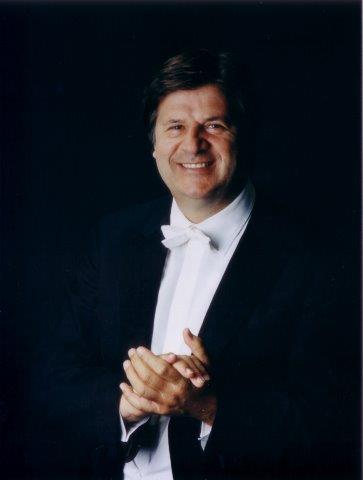 Günter Neuhold
A | Sundry
Artistic Director Cyprus Symphony Orchestra (21/22)

Born
Graz | Austria
Studies
University of Music Graz
with Franco Ferrara in Rome
with Prof. Hans Swarowsky in Vienna

Highlights
1999: Decoration of Honour for Services to the Republic of Austria
Prizes
Florenz: First Prize (1972)
San Remo Marinuzzi: First Prize (1976)
Wien Swarowsky: Second Prize (1977)
Salzburg Böhm: First Prize (1977)
Mailand Cantelli: Third Prize (1977)
Recordings
Bella Musica, Antes Edition, Bayer Records, Naxos, Fonita Cetra, Cadenza, Thorofon
Short Biography

Günter Neuhold was born in Graz, Austria, in 1947. In 1969 he completed his studies at the Graz Conservatoire with a masters degree. He then followed advanced courses in Rome with Franco Ferrara and in Vienna with Prof. Hans Swarowsky.
Between 1972 and 1980 he was engaged at various German opera houses, a period he closed as first Kapellmeister in Hannover and Dortmund. After winning several competitions (Florence 1st prize, 1976; San Remo, "Marinuzzi" 1st prize, 1976; Vienna, "Swarowsky" 2nd prize, 1977; Salzburg, "Böhm" 1st prize, 1977, Milan, "Cantelli" 3rd prize, 1977), he began an international career.

He has conducted operas at the Wiener Staatsoper, Scala Milano, Opernhaus Zürich, Staatsoper Dresden, Nationaltheater München, Berliner Staatsoper, Deutsche Oper Berlin, Komische Oper Berlin, Oper Leipzig, Teatro Real Madrid, Opéra Monte Carlo, Chatelet, Opera National de Paris, Teatro Colon B.A., Grand Théatre de Genéve, Bordeaux, Capitole Toulouse, Opera Nat. du Rhin Strasbourg, Den Norske Opera Oslo, Göteborgs Operan, Teatro Sao Carlos Lisboa, Opera Roma, Teatro Com. Bologna, Genova, Teatro Mass. Palermo, Catania, Philadelphia Opera, Tourneen in USA, Japan and Russia.

Festivals: Salzburger Festspiele 78, 80, 83, 86, Festival de Radio France-Montpellier, Vlaanderen Festival, Biennale Venice, Enescu Festival Bucarest 98 Musikfestspiele and Intern.Strauss Festival Dresden, Colorado Music-Festival 99. Granada Festival 2000.

As of season 2021/22 Günter Neuhold was appointed New Artistic Director – Conductor of the Cyprus Symphony Orchestra.

2021/2022

This biography is for website use only. For a full and updated biography, please email
If you wish to revise, or receive a full and updated biography, please contact Mark Stephan Buhl Artists Management (office@msbuhl.com). Please use material of the current season only.