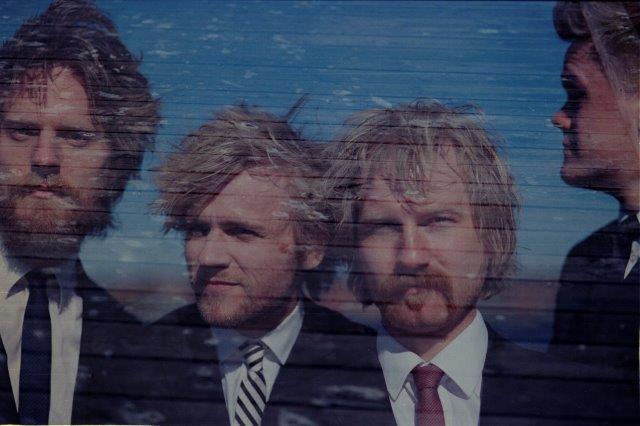 Danish String Quartet
A | D | CH | EE

Born

Denmark and Norway
Studies

Royal Academy of Music Kopenhagen
Highlights
2012 selected by New York Times as "Highlight of the Season"
"New Generation Artist" for 2013-2015 by BBC Radio 3

Prizes

Danish Radio Chamber Music Competition
Trondheim Chamber Music Competition
Charles Hennen Chamber Music Competition
11th London International String Quartet Competition
Nordmetal-Ensemble-Prize at Mecklenburg-Vorpommern-Festivals
Carls Nielsen Prize

Recordings

Dacapo (String Quartets by Nielsen, "Wood Works")

Short Biography

Frederik Øland – Violin
Rune Tonsgaard Sørensen – Violin
Asbjørn Nørgaard - Viola
Fredrik Schøyen Sjölin – Cello

Embodying the quintessential elements of a fine chamber music ensemble, the Danish String Quartet has established a reputation for their integrated sound, impeccable intonation and judicious balance.
The Danish String Quartet's expansive 2017-2018 North American season includes more than 30 performances across 17 states. The ensemble gives debut performances at numerous renowned venues, such as the Interlochen Center for the Arts, Bravo! Vail and Ravinia summer festivals, Cleveland Chamber Music Society, Ensemble Music Society Indianapolis, Santa Fe Pro Musica, Oregon Bach Festival, and San Francisco Performances, among others. Further season highlights include returns to the Mostly Mozart Festival, UW World Series at Meany Hall in Seattle, Chamber Music Society of Lincoln Center, and the Philadelphia and Buffalo Chamber Music Societies. This season, the Quartet features a richly satisfying array of diverse repertoire which includes both giants of the string quartet canon - Bartok, Beethoven, Brahms, Haydn, and Mozart- with lesser-performed works by Sibelius, Schnittke, and Jörg Widmann. Additionally, the ensemble joins the outstanding Finnish pianist Juho Pohjonen to perform the Shostakovich Piano Quintet at Ravinia and the Brahms Piano Quintet at CMS Lincoln Center's residency at Saratoga Performing Arts Center, where they also collaborate with cellist Jakob Koranyi for the Schubert Cello Quintet. Overseas, they tour extensively throughout Europe in their native Denmark, Norway, Germany, Luxembourg, and Holland as well as Australia and the Far East.
The Danish String Quartet continues to expand upon their deep affinity for Scandinavian folk music with several performances of their own arrangements of traditional Nordic music, and with the release of a new recording on ECM Records this fall.

2017/2018
This biography is for website use only. For a full and updated biography, please email office@msbuhl.com.
If you wish to revise, or receive a full and updated biography, please contact Mark Stephan Buhl Artists Management (office@msbuhl.com). Please use material of the current season only.