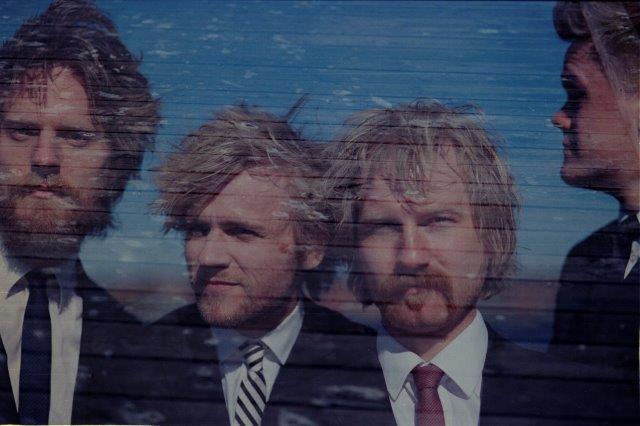 Danish String Quartet
A | D | CEE
Musical America 2020 "Ensemble of the Year"
Born

Denmark and Norway
Studies

Royal Academy of Music Kopenhagen
Highlights
2012 selected by New York Times as "Highlight of the Season"
"New Generation Artist" for 2013-2015 by BBC Radio 3

Prizes

Danish Radio Chamber Music Competition
Trondheim Chamber Music Competition
Charles Hennen Chamber Music Competition
11th London International String Quartet Competition
Nordmetal-Ensemble-Prize at Mecklenburg-Vorpommern-Festivals
Carls Nielsen Prize

Recordings

Dacapo (String Quartets by Nielsen, "Wood Works")

Short Biography

Rune Tonsgaard Sørensen – Violin
Frederik Øland – Violin
Asbjørn Nørgaard - Viola
Fredrik Schøyen Sjölin – Cello

Among today's many exceptional chamber music groups, the Danish String Quartet continuously asserts its preeminence. The Quartet's playing reflects impeccable musicianship, sophisticated artistry, exquisite clarity of ensemble, and, above all, an expressivity inextricably bound to the music, from Haydn to Shostakovich to contemporary scores. Their performances bring a rare musical spontaneity, giving audiences the sense of hearing even treasured canon repertoire as if for the first time, and exuding a palpable joy in music-making that have made them enormously in-demand on concert stages throughout the world.

Since its debut in 2002, the Danish String Quartet has demonstrated a special affinity for Scandinavian composers, from Nielsen to Hans Abrahamsen, alongside music of Mozart and Beethoven. The Quartet's musical interests also encompass Nordic folk music, the focus of its newest recording, Last Leaf, on the ECM label. The recipient of many awards and prestigious appointments, including the Borletti Buitoni Trust, the Danish String Quartet was named in 2013 as BBC Radio 3 New Generation Artists and appointed to the Chamber Music Society of Lincoln Center's CMS Two Program.

The Danish String Quartet begins the 2018-2019 season in Europe with appearances at the Lammermuir Festival in Scotland, followed by Norway's Trondheim Festival, where they perform Mendelssohn's Octet with the Maxwell Quartet, and collaborate with pianist Joseph Kalichstein in Brahms's Piano Quintet. They return to London's Wigmore Hall for a program that contrasts two Beethoven quartets with Webern. The Quartet tours North America, including performances in Toronto, Richmond, Wake Forest, Durham, Ann Arbor, and New York. They are presented by the 92nd Street Y, Washington Performing Arts, Houston Da Camera, Ensemble Music Society in Indianapolis, and Rockport Music. Concert programs include works by Haydn, Beethoven, Mendelssohn; String Quartet No. 1, "Ten Preludes" by the contemporary Danish composer Hans Abrahamsen; and Scandinavian folk song arrangements. In Europe, the Danish String Quartet travels to Munich, Milan, Antwerp, Berlin, Hamburg, and Madrid. The Quartet returns to the United States for performances in La Jolla, Santa Barbara, and Berkeley, appear for the first time in Logan, Provo, and Los Alamos, and return to play for the Vancouver Recital Society and Laramie.

2018/2019
This biography is for website use only. For a full and updated biography, please email office@msbuhl.com. If you wish to revise, or receive a full and updated biography, please contact Mark Stephan Buhl Artists Management (office@msbuhl.com). Please use material of the current season only.