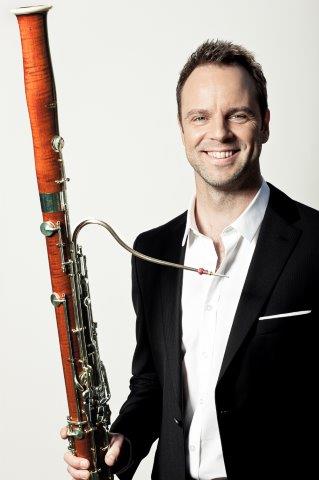 Martin Kuuskmann

EUR

Born
Estonia

Studies
Yale, Manhattan School of Music

Highlights
8 new bassoon concerti to date written exclusively for him by leading composers of our time such as Erkki-Sven Tüür, Eino Tamberg, Tõnu Kõrvits , Gregor Huebner, Christopher Theofanidis, Charles Coleman, Gene Pritsker and most recently David Chesky.

Grammy nomination for "Best Contemporary Composition Bassoon Concerto" by David Chesky.

Founding Member of Absolute Ensembles New York (Kristjan Järvi).
Moosmann Fagotte und Miller Marketing Company-Artist

Prizes
German Record Critics Award 2000
Recordings
ERP, Chesky Records, CCn'C, Enja Records, Furious Artisans Records, Simax Records
Short Biography
Martin Kuuskmann's charismatic and entertaining performances throughout the world have earned him reputation as one of the leading solo instrumentalists. In 2007 he received a Grammy Nomination for his recording of David Chesky's bassoon concerto.

Martin Kuuskmann has premiered eight bassoon concertos written especially for him by Erkki-Sven Tüür, Eino Tamberg, Tõnu Kõrvits, Christopher Theofanidis, David Chesky, Gregor Huebner, Gene Pritsker and Charles Coleman. Martin Kuuskmann has performed Michael Daugherty's madcap concerto "Dead Elvis" across the world nearly 50 times.

He has been a frequent soloist with the Estonian National Symphony Orchestra and has appeared with the New York Philharmonic, the Macao Orchestra or Nordic Symphony Orchestra, among others.

Martin Kuuskmann appears regularly at the Järvi Summer Festival, Bremen Musikfest, Menuhin Festival Gstaad, to name a few. As chamber musician he is a co-founder of Trio Mann along with oboist Christoph Hartmann (Berlin Philharmonic) and pianist Hendrik Heilmann.

Kuuskmann's latest recording of reconstructed bassoon concertos by J.S.Bach with co-soloist, violist Lars Anders Tomter and the 1B1 Ensemble, was released to high praise on Simax records in 2012. His critically acclaimed solo cd "Nonstop" and other albums are available on ERP, Erdenklang, CCn'C and Chesky record labels.

A graduate of the Yale and the Manhattan Schools of Music, Kuuskmann's mentors include Stephen Maxym, Frank Morelli, Ilmar Aasmets and Rufus Olivier. Kuuskmann teaches at the Manhattan School of Music Contemporary Performance Program and at Cornish College of Arts in Seattle, serves as the woodwind coach of the Baltic Youth Philharmonic and teaches regularly at the Arosa Music Academy in Switzerland. Kuuskmann is a founding member and solo bassoonist of the New York City based Absolute Ensemble.

2017/2018
This biography is for website use only. For a full and updated biography, please email office@msbuhl.com
If you wish to revise, or receive a full and updated biography, please contact Mark Stephan Buhl Artists Management (office@msbuhl.com). Please use material of the current season only.