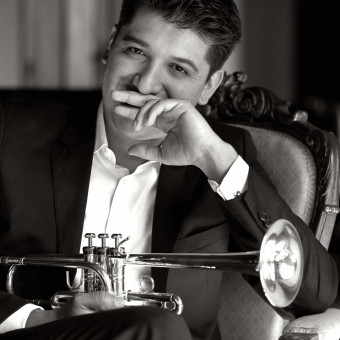 Pacho Flores
GEN
Born
Venezuela
Studies
Venezuelan System of Youth and Children Orchestras (El Sistema)
Highlights
Prizes
1. Prize Maurice André Competition
1. Prize Philip Jones Competition
1. Prite Citta di Porcia Competition

Recordings
Deutsche Grammophon, Guataca Producciones
Short Biography
Pacho Flores was awarded the First Prize in the "Maurice André" International Contest, the most renowned trumpet Contest in the world, as well as First Prize in the "Philip Jones" International Contest and First Prize in the "Cittá di Porcia" International contest.

Acting as a soloist, he has performed with the Philharmonic Orchestra of Kiev, Camerata from St. Petersburg, Orchestral Ensemble from Paris, Orchestre de la Garde Républicaine, NHK Orchestra from Japan, Symphony Orchestra of Tokio, Philharmonic Orchestra of Osaka, Simón Bolívar Symphony Orchestra from Venezuela, Symphony Orchestra of Dusseldorf, and the Arctic Philharmonic Orchestra amongst many others. He has also given recitals in concert halls such as the Carnegie Hall in New York, Pleyel Hall in Paris, and the Opera City in Tokio. Serving as one of the founding members of the Simón Bolívar Brass Quintet, he has taken part in numerous tours around Europe, South America, United States, and Japan.

Experienced orchestral musician, Flores has held the Leading Trumpet position in the Simón Bolívar Symphony Orchestra of Venezuela, Saito Kinen Orchestra from Japan, and the Symphony Orchestra of Miami, under the musical direction of Maestros like Claudio Abbado, Sir Simon Rattle, Seiji Ozawa, Giuseppe Sinopoli, Rafael Frübeck of Burgos, Eduardo Marturet, and Gustavo Dudamel including many others.

Founding Director of the Latin-American Trumpet Academy in Venezuela, he fosters a promising generation of young talents.

As an artist from the Stomvi family, he plays instruments that have been exclusively manufactured for him by this renowned firm, and is actively involved in the developments and innovations of his instruments. Pacho Flores is an exclusive artist of Deutsche Grammophon. "Cantar" is his first album with this well-known record label and with whom he will produce a series of representative recordings from his abounding and varied musical restlessness.

2016/2017
If you wish to revise this biography please contact Mark Stephan Buhl Artists Management (office@msbuhl.com). Please use material of the current season only.