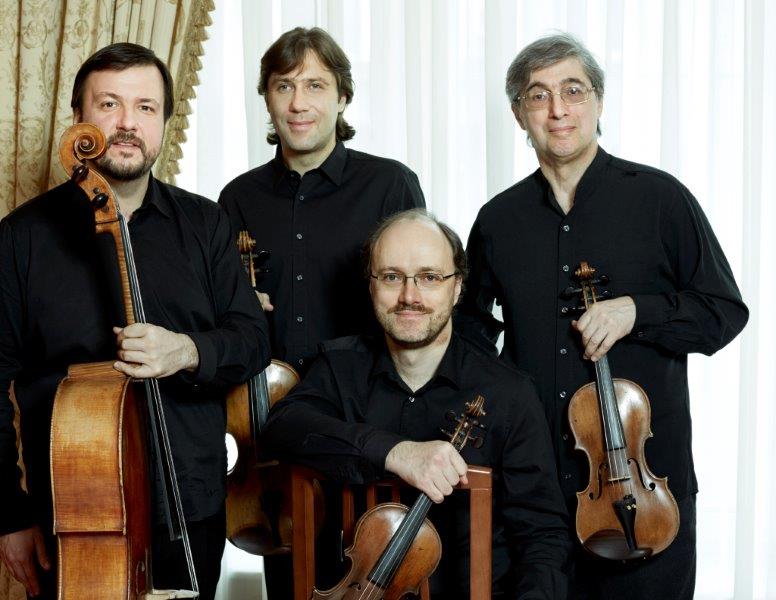 Borodin Quartet
A | D | CH
Born
Moscow, Russia

Studies
Moscow Conservatory, Russia

Highlights
Prizes
Gramophone Award 1994

Recordings
EMI, RCA, Teldec, Chandos, DECCA
Short Biography
Ruben Aharonian | violin
Sergei Lomovsky | violin
Igor Naidin | viola
Vladimir Balshin | cello



For seven decades, the Borodin Quartet has been celebrated for its insight and authority in the chamber music repertoire. Revered for its searching performances of Beethoven and Shostakovich, the Quartet is equally at home in music ranging from Mozart to Stravinsky.
The Borodin Quartet's particular affinity with Russian repertoire is based on constant promotion, performances and recording of the pillars of Russian string quartet music - Borodin, Tchaikovsky and Shostakovich, as well as Glinka, Stravinsky, Prokofiev and Schnittke.
The Quartet's connection with Shostakovich's chamber music is intensely personal, since it was stimulated by a close relationship with the composer, who personally supervised its study of each of his quartets. Widely regarded as definitive interpretations, the Quartet's cycles of the complete Shostakovich's quartets have been performed all over the world, including Vienna, Zurich, Frankfurt, Madrid, Lisbon, Seville, London, Paris and New York. The idea of performing a complete cycle of Shostakovich's quartets originated with the Borodin Quartet. In recent seasons the ensemble has returned to a broader repertoire, including works by Schubert, Prokofiev, Borodin and Tchaikovsky, while continuing to be welcomed and acclaimed at major venues throughout the world.

The Borodin Quartet was formed in 1945 by four students from the Moscow Conservatory. Calling itself the Moscow Philharmonic Quartet, the group changed its name to Borodin Quartet ten years later and remains one of the very few existing established chamber ensembles with uninterrupted longevity. The world has changed beyond recognition since 1945; the Borodin Quartet, meanwhile, has retained its commitment to tonal beauty, technical excellence and penetrating musicianship. The ensemble's cohesion and vision have survived successive changes in personnel, thanks not least to the common legacy shared by its members from their training at the Moscow Conservatory. The current members of the Quartet are Ruben Aharonian, Sergei Lomovsky, Igor Naidin and Vladimir Balshin.
Highlights in 2016/17 include performances in London, Lyon, Bilbao, Pamplona, Madrid, Essen, Brugge, Miami, Puerto Rico, Bogotá, Amsterdam, Rotterdam, Budapest, and Moscow, as well as a tour of China; playing quartets of Prokofiev, Mozart, Beethoven, Haydn, Tchaikovsky, Arensky Myaskovsky, Shostakovich – and of course Borodin; and quintets with partners including Alexei Volodin, Michael Collins, Joseph Kalichstein and Elisabeth Leonskaja. Furthermore, the Borodin Quartet joins the Staatskapelle Dresden Orchestra under the baton of Vladimir Jurowski for performances of the Martinu and Schulhoff concertos for orchestra and string quartet.

2016/17
if you wish to revise this biography please get in touch with Mark Stephan Buhl Artists Management (office@msbuhl.com). Please use material of the current season only.