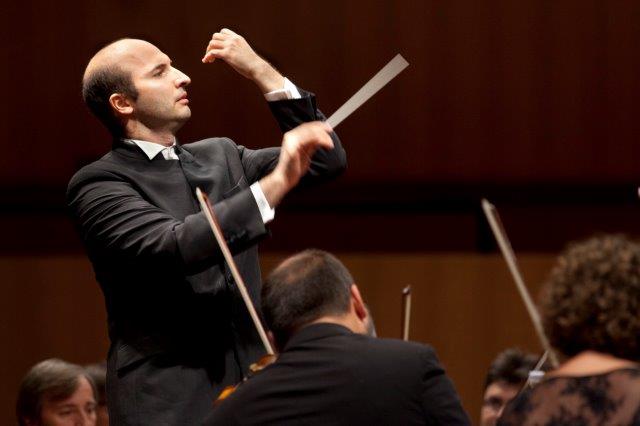 Gaetano d'Espinosa
A | D | EE
Born
Palermo (Italy)
Studies
in Palermo with Mihal Spinei and Turi Belfiore
in Mailand with Salvatore Accardo
Highlights
2010: "La Traviata" at the Semperoper in Dresden
2010: Pacific Music Festival in Japan with "La Bohème"
2011: Zeffirelli-Production " I Pagliacci" at the Teatro La Fenice in Venice
2012: Opéra de Lyon Puccinis Opera-Cycle "Triptychon"
2015: Teatro la Fenice in Venice with "La Traviata" and "Norma"
Prizes
1992: highest award at the National Violin Competition "Vittorio Veneto" 1996: highest award of the International Violin Competition "Rovere d'Oro"
Recordings
Short Biography

Born in Palermo in 1978, Gaetano d'Espinosa studied piano, violin and composition in his hometown with Mihal Spinei and Turi Belfiore and later with Salvatore Accardo in Milan.

Gaetano d'Espinosa served as Concertmaster at the Staatskapelle Dresden from 2001 until 2008, when he resigned to focus on his conducting career, taking on the role of musical assistant of Fabio Luisi.

In 2010 d'Espinosa conducted "La Traviata" at the Semperoper Dresden to resounding acclaim and, as assistant to Fabio Luisi, he travelled to the Pacific Music Festival in Japan conducting performances of "La Boheme".

This has been a sudden start of an unbelievable career that took him, in less than three years, to be invited by major orchestras and theatres such as Kremerata Baltica, Philharmonic Orchestra of Prague, Orchestra Sinfonica Siciliana, Chamber Orchestra Dresden, Brandenburgisches Staatsorchester Frankfurt/Oder, Orchestra di Santa Cecilia Roma, NHK Symphony Orchestra Tokyo, and Symphonieorchester Basel.

In January 2012 Gaetano d'Espinsa has been called to the Opera de Lyon to conduct Puccini's "Trittico" replacing a sick maestro with greatest acclaim by international press.

In 2015 he had a residence of two months at Teatro la Fenice in Venice, conducting "La Traviata" and a new production of "Norma".

2016/2017
If you wish to revise this biography please contact Mark Stephan Buhl Artists Management (office@msbuhl.com). Please use material of the current season only.