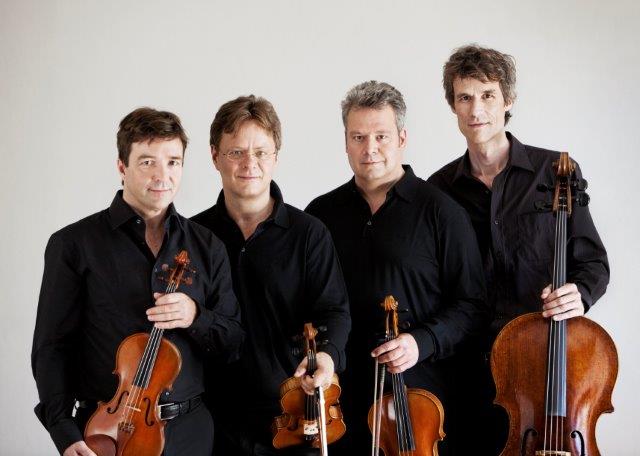 Vogler Quartett
A | EE
Born
Berlin, Görlitz, Neubrandenburg and Brandenburg,
the quartet: 1985 in Berlin
Studies
Berlin and Cincinnati
Highlights
Terrific
as a quartet
pure
and
with different partners
from the
quintet
to
octet
, big
and
rich repertoire
of
classical, romantic
,
modern classical
, new music
, tango
, klezmer,
chansons
.
Prizes
International string quartet competition Evian 1986 1st Prize, Prize for the best interpretation of a contemporary piece, media prize

International music competition Bratislava 1989 1st Prize

Recordings
RCA, Nimbus, Profil, CPO, Steinway&Sons, Sony Classical, Edition Abseits,Genuin, Phil.harmonie
Short Biography
Tim Vogler | Violin
Frank Reinecke | Violin

Stefan Fehlandt | Viola

Stephan Forck | Cello


The Vogler Quartet, still featuring the four original members, has been founded in 1985 and it has secured a place for itself among the top chamber music ensembles, thanks to its great individual and joint skills.

The Vogler Quartet's repertoire covers both the classical literature for string quartet from Haydn to Bartók and the Second Viennese School, as well as brand-new works, giving them an unusual range. Modern compositions have been written for them and their spectrum of collaboration ranges from a quintet featuring a piano, clarinet, viola or cello, to works scored for an octet.

The CD "Paris Days & Berlin Nights" (Steinway&Sons) with Ute Lemper got a Nomination for the 2013 Grammy Awards, in June 2014 Vogler Quartet and the Berlin Label Phil.harmonie released a CD live from Konzerthaus Berlin, featuring Tangos by Astor Piazolla and Marcelo Nisinman and in fall 2014 they added to their already extensive discography a complete recording of the Dvorak quartets.
In 2016 they released their third Dvorak album (CPO) with the String Quintet op. 97 and the Piano Quintet op. 81 together with Tatjana Masurenko and Oliver Triendl.

The Vogler Quartet have their own recital series at the Konzerthaus Berlin, they appear at the annual festival "Music in Drumcliffe" in the Irish town Sligo, and are responsible for the artistic direction of the "Kammermusiktage Homburg/Saar". In addition, they run the children's music festival in Kassel "Nordhessische Kindermusiktage", which has won several prizes.

The members of the Vogler Quartet are teaching in different Colleges in Europe and overseas.

2016/2017
If you wish to revise this biography please contact Mark Stephan Buhl Artists Management (office@msbuhl.com). Please use material of the current season only.