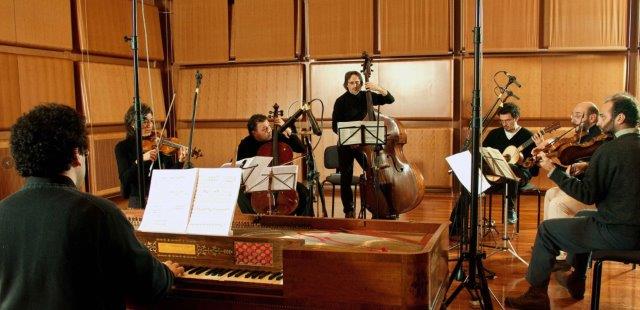 Concerto de' Cavalieri
A | EE | Sundry
Born
Italy
Studies
Italy
Highlights
Nomination of CD "Scarlatti Opera Arias" at the International Music Awards 2012
Prizes
Recordings
CPO, Deutsche Harmonia Mundi, SONY
Short Biography

Hailed as 'one of Italy's most vibrant and exciting groups dedicated to period-instrument performance of 18th century music' (Fanfare Magazine), Concerto de' Cavalieri was founded by Marcello Di Lisa at the Scuola Normale Superiore in Pisa.
The orchestra regularly performs at some of the most prestigious international venues such as Musikverein in Vienna, Concertgebouw in Amsterdam, Auditorio Nacional in Madrid, Centro Cultural de Belém in Lisbon, Festival d'Ambronay, Festival de Radio France among others, collaborating with renowned soloists.
Concerto de' Cavalieri also enjoys a busy recording activity for Sony and its CDs have received critical acclaim by the international press: 'A completely captivating interpretation. An absolutely first-rate ensemble. This recording sets a new standard' (Fanfare Magazine). 'Concerto de' Cavalieri's technically sterling musicianship has vigor, thrust and eloquence' (Musical America). 'Flamboyant playing ... Sensible historically and stylish artistically' (Gramophone). 'Un disque remarquable' (Diapason). 'Une initiative d'une importance rare, un coup d'éclat, un manifeste plus qu'une compilation d'airs' (Muse Baroque). 'Ein exquisites, mit viel Verve aufspielendes Ensemble' (Mitteldeutscher Rundfunk). 'Marcello Di Lisa imprime alla sua orchestra il sigillo dell'eccezionalità' (L'Opera). 'Das Resultat ist exzeptionell. Die Rhythmik ist scharf wie ein Rasiermesser, die Dynamik phänomenal' (Pizzicato). 'Una exhibición ininterrumpida de bravura y temperamento artístico' (Scherzo).

2016/2017
If you wish to revise this biography please contact Mark Stephan Buhl Artists Management (office@msbuhl.com). Please use material of the current season only.