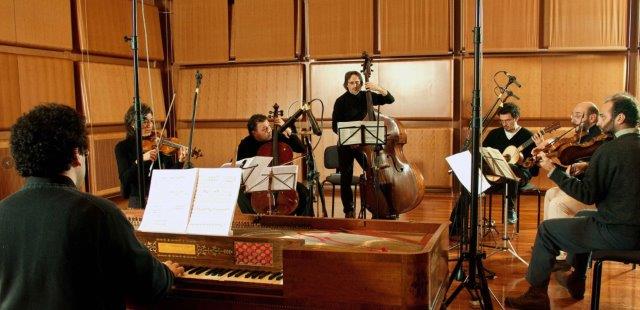 Concerto de' Cavalieri
A | EE | Sundry
Born
Italy
Studies
Italy
Highlights
Nomination of CD "Scarlatti Opera Arias" at the International Music Awards 2012
Prizes
Recordings
CPO, Deutsche Harmonia Mundi, SONY
Short Biography

Concerto de' Cavalieri, directed by Marcello Di Lisa, is one of the leading Italian music ensembles performing on period instruments. The ensemble was founded in Pisa at the Scuola Normale Superiore where Marcello Di Lisa brought together some of Italy's finest baroque musicians.
Under Marcello Di Lisa's direction (from keyboard), Concerto de' Cavalieri has gained a solid reputation for his historically informed style, warmth and vitality. They regularly perform at festivals and venues throughout Italy and abroad, in collaboration with internationally renowned soloists such as Daniela Barcellona, Sandrine Piau, Maria Grazia Schiavo, Gemma Bertagnolli, Sara Mingardo, Furio Zanasi, Adriana Fernandez and Antonio Abete, among others. Their repertoire ranges from the music of the 17th century to the early Romantic period.

Concerto de' Cavalieri has recorded Alessandro Scarlatti's Sacred Works (CPO) which was enthusiastically received by the press: 'sensible historically and stylish artistically... the effect is splendid... impressive solo contribution from a team that includes several eminent Italian specialists.' (Gramophone); 'a remarkable CD' (Diapason). Their second CD with CPO, Alessandro Scarlatti's Cantatas with soprano Adriana Fernandez, was released in April 2012.

Concerto de' Cavalieri debut CD with Deutsche Harmonia Mundi, Alessandro Scarlatti's Opera Arias with mezzo Daniela Barcellona, features symphonies and arias from six different Scarlatti's operas, including several world premiere recordings. It received rave reviews, 'Serious Baroque opera lovers should devour this greedily' (Gramophone), 'completely captivating interpretation, particularly in the sinfonias .. opera lovers will come away wishing that Di Lisa and his crew would record complete works by the composer' (Fanfare). This CD is the first volume of The Baroque Project (Deutsche Harmonia Mundi), a series of 5 CDs in which Concerto de' Cavalieri will explore the 18th-century Italian opera; the second CD devoted to Pergolesi, again with Daniela Barcellona, was released in June 2012.

2017/2018
This biography is for website use only. For a full and updated biography, please email office@msbuhl.com If you wish to revise, or receive a full and updated biography, please contact Mark Stephan Buhl Artists Management (office@msbuhl.com). Please use material of the current season only.