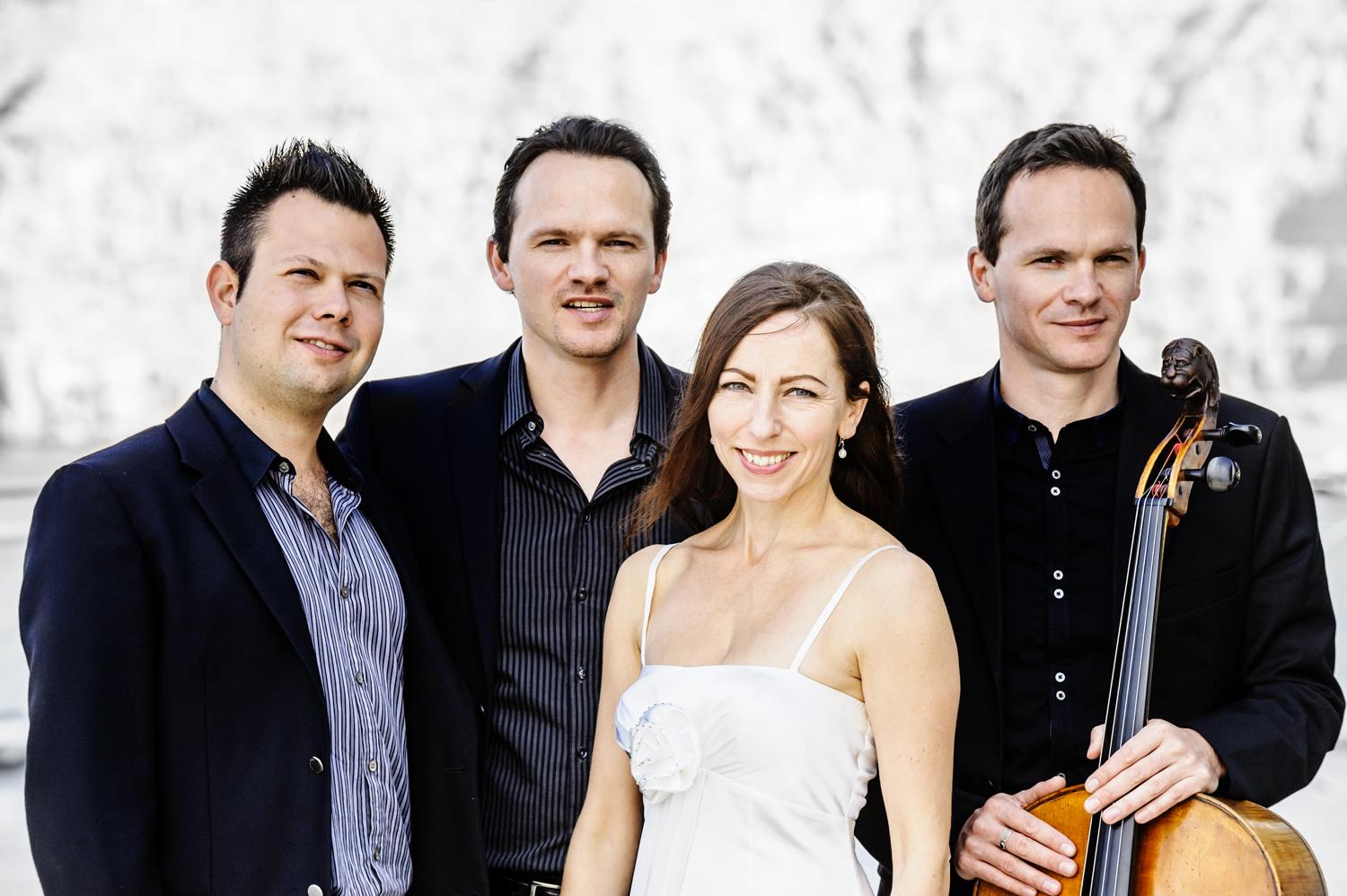 casalQuartett
A | EE

Full Biography
Felix Froschhammer | Violin
Rachel Rosina Späth | Violin
Markus Fleck | Viola
Andreas Fleck | Cello

Founded in 1996, the casalQuartet's formal training took place under the watchful eyes of the Carmina Quartet in Zurich, the Alban Berg in Cologne and Walter Levin in Basel.

The quartet has also benefited greatly from performing with musicians such as Martha Argerich, Khatia Buniatishvili, Nikolai Tokarev, Oliver Schnyder, Nikolaj Znaider, Patricia Kopatchinskaya, Benjamin Schmid, Sol Gabetta, Clemens Hagen, Jens-Peter Maintz, Emma Kirkby, Christiane Oelze, Christoph Prégardien, Giora Feidman, Reto Bieri, Otto Lechner, Ramon Ortega Quero, Maurice Steger, Marcelo Nisinman, Peter Sadlo, Carmina Quartett, Petersen Quartett, Ensemble Raro, Ensemble Wien-Berlin and others.

The casalQuartet has performed over 1.300 concerts in many parts of the world. (e.g. Schleswig Holstein Musikfestival, Beethoven-Fest Bonn, Styriarte Graz, Rheingau Festival, Philharmonie Essen, Konzerthaus Berlin, Tonhalle Zürich, Les Muséiques Basel, Springfestival Budapest, Philharmonie Luxembourg, Lucerne Festival, Musikfestspiele Potsdam, Laeiszhalle Hamburg, Muziekgebouw Amsterdam, Festival Lockenhaus, Satori Hall Tokyo, Tonhalle Düsseldorf, Kölner Philharmonie, Festspielhaus Bregenz, Liederhalle Stuttgart, Konzerthaus Wien etc.)

Immediacy with its audiences, the integration of colleagues from other artistic disciplines, and concept oriented programming are all equally important to the quartet's vision – which it promulgates at its three festivals in Switzerland. The four musicians see the string quartet as one of the most versatile genres in music, equally successful in its journeys to the 17th century, to Tango Nuevo, jazz and the newest works of today, and well adapted to extending previous programming boundaries by the inclusion of theatre, dance and literature. Projects for young people, as well as commentated concerts are features which are a part of the quartet's mission, which is to create a lively dialogue between tradition and innovation.

In 2011 the cQ performed Stockhausens Helicopter Quartet including 4 helicopters for the first time in Switzerland.
One eminently important project for the cQ is its substantial work on period instruments by Jacobus Stainer. The first CD "Birth of the string quartet" received the highest critical acclaim, among them the ECHO KLASSIK 2010. 2015 the quartet received again the prestigious ECHO KLASSIK for their album "Richter: Genesis 1757" as a "Chamber Music Recording of the Year".

"Birth of String Quartet Vol. 2" received the PIZZIKATO AWARD and the DIAPASON DÉCOUVERTE.

The cQ was nominated for the 2012 ICMA-Award.

In fall 2013 German violinist Felix Froschhammer, student of Pierre Amoyal and Salvatore Accardo, followed Corinne Chapelle on first violin.

2016/2017
This biography is for website use only. For a full and updated biography, please email office@msbuhl.com
If you wish to revise, or receive a full and updated biography, please contact Mark Stephan Buhl Artists Management (office@msbuhl.com). Please use material of the current season only.